The 6 Best Australian Native Plants For Waterwise Perth Garden Designs
Australian native plants offer spectacular colour varieties, textures and fragrances for our Perth gardens. The beauty of planting natives within your garden design, particularly ones local to WA, is that they can handle our harsh Australian climate and hot sun, during the long summer months.
Australian native plants generally require far less watering than other varieties. They are perfectly suited to our dry Australian climate, are drought tolerant once established, and typically require little maintenance.
There are also endless creative possibilities! There are Australian natives that will work well with almost any garden style, Medeterranean to Tropical.
We love incorporating natives into our landscape designs at The Greenscape Collective. One of the main reasons is that we're always looking for ways to be environmentally friendly, and as sustainable as possible. With water being such a precious resource, we'd like to use as little of it as possible.
From our many years of experience incorporating natives within our garden designs we have assembled a list below of our top 10 best waterwise Australian natives to plant in your garden that are hardy enough to withstand the Perth climate.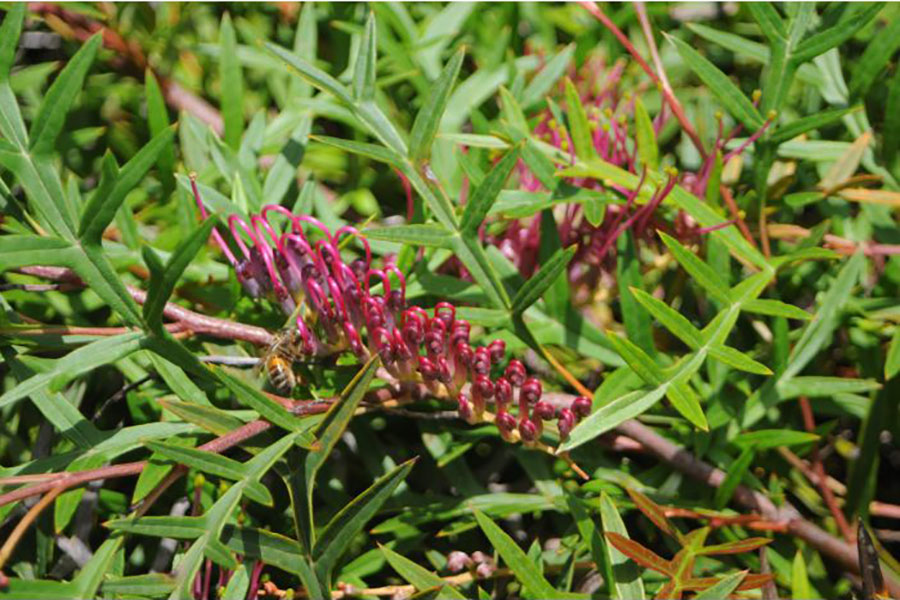 1. Coastal Wattle – 'Acacia lasiocarpa'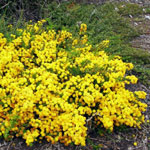 There are multiple different kinds of wattles found across Australia from trees to groundcovers, but one of our favourites is from right here in Perth WA. The Acacia lasiocarpa is a hardy evergreen shrub or groundcover that is naturally found along the coast. Also known as the Coastal Wattle, this plant forms masses of small vibrant and fluffy yellow pom-pom like flowers in winter and spring over its bright green leafy base. This happy low growing shrub is sure to add a bright pop of colour into your front or backyard.
Pro tip: As well as requiring very little water, and despite its dainty looks this plant is tough as nails. It can tolerate coastal conditions, drought and poor soils. So if you have a hot, dry spot in your garden, this may be the plant for you.
---
2. Toothbrush Grevillea – 'Grevillea Bronze Rambler'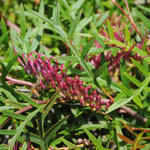 Like wattles, there are many different kinds and forms of Grevillea, and one of our regular 'go-tos' is the Bronze Rambler. This unique looking native groundcover is naturally dense and fast growing, making for easy care landscaping and a natural weed suppressant. The fern-like leaves produce a dazzling display of deep purple-red flowers with pink highlights throughout most of the year, attracting lots of native bees and birds to your Perth garden year round..
Pro tip: Grevilleas are a great habitat plant for native wildlife such as frogs, small lizards and birds. For more planting garden advice check out our services page here
---
3. Common Everlasting – 'Chrysocephalum apiculatum'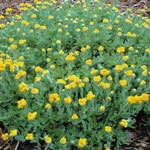 This compact perennial native herb has many yellow button flowers that hug the ground and bloom all year round. We love this plant as a top pick for a ground cover for your front garden especially, because it consistently delivers colour to your landscape. It is a member of the daisy family making it perfect to grow in sunny locations on well drained soil.
Pro tip: This plant loves living amongst rocks so it's perfect for those with gardens that have big feature rocks throughout, as it acts as a shrub and looks stunning in the garden.
---
4. Bottlebrush – 'Callistemon Kings Park Special'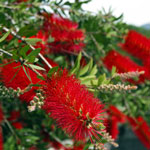 The bottlebrush is a well known Australian native, known for being eye catching, low maintenance and fast growing with distinctive flowers made up of multiple stringy layers. The Callistemon Kings Park Special in particular is also a very popular tree with nectar-loving native birds. The vivid red flowers on the bottlebrush plant bloom in the spring and summer months which is why it Is important to keep the soil well drained to allow it to thrive and bloom. The bottlebrush could also be used as a great replacement for the family Christmas tree. See our article on Australian native alternatives for Christmas trees here.
Pro tip: It's best to prune bottlebrush plants when the flowers start to fade. This is a safe time for pruning shrubs to guarantee that future blooms aren't damaged.
---
5. NSW Christmas Bush – 'Ceratopetalum gummiferum'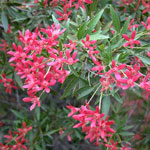 Growing up to five metres high, the NSW Christmas Bush is best known for producing a blanket of red star shaped flowers in mid December just in time for Christmas day. They're an extremely hardy plant and absolutely love the sun, which makes it perfect for Perth gardens.
Pro tip: Be sure to keep this native in an open sunny position in the garden and watch it thrive around Christmas time.
---
6. Bower Plant – 'Pandorea jasminoides'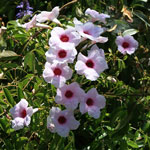 If you're looking for a native creeper for your garden, the Pandorea is one of the best. It's another low maintenance plant that produces flowers that mimic a small trumpet shape. The pandora blooms in spring and summer in a range of colours from white to pink with a deeper pink in the centre. They're a popular choice for outdoor areas, for vertical wall gardens, pergolas and archways because of their stunning shaped flowers and shiny deep green leaves.
Pro tip: Pandorea prefer to be positioned in the full sun, so don't try to hide them undercover.
---
7. Candlestick Banksia – 'Banksia attenuata'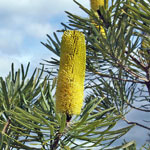 This striking WA native is an extremely tough large shrub or small tree with a unique look, growing long narrow serrated leaves and producing the iconic bright yellow cone like wiry flowers from spring to autumn. The Candlestick Banksia is a great plant to withstand the Australian summer as they love to be out in the full sun and prefer warmer coastal climates, perfect for WA garden landscaping.
Pro tip: To help keep banksias tidy and compact, prune the old flower heads each year. Limit pruning into older stems as this can reduce next year's flowers and try to ensure the plant is 4 metres away from sewerage and water lines when planting in your garden. If garden maintenance is not your thing then check out our list of our garden maintenance services.
---
8. Lilly Pilly – 'Syzygium Australae Pinnacle'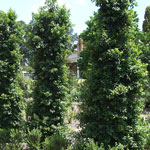 Lilly Pilly is a great Australian native you will often see in Perth garden designs, most usually as hedging. Most varieties produce pink berries that are edible as well as fluffy white flowers that attract native birds and bees. One of our favourites 'Pinnacle' is very narrow, tall and compact in form, making it ideal for hedging and screening in narrow garden beds, but it can also be grown in containers as topiary. They thrive in full sun to part shade areas with the soil around them lightly moist. This native is not suitable for the cooler climates but is a hardy variety that can tolerate light salt conditions, moderate frosts and pollution, making it perfect to plant in your pool landscaping.
Pro tip: When planting as a feature tree, the root systems can become quite invasive. In this case, ensure that you plant at least 20 metres clear of any sewerage or water mains.
---
9. Aniseed Boronia – 'Boronia crenulata'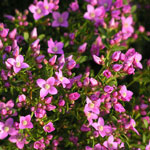 This small native shrub is local to WA which makes it a great addition for your garden. Producing unique spicy aromatic light green cuneate foliage and a profusion of delicate pink flowers in winter and spring. The Boronia plant is suited to most climates making it an all year round plant. Ideal for borders and shady rockeries we also think this is a perfect potted plant to incorporate into a small courtyard garden design. Once established it requires little water with very low maintenance.
Pro tip: Boronia plants dislike root disturbances, so take extra care when choosing its final position and transplanting.
---
10. Native Fuchsia – 'Correa Federation Bell'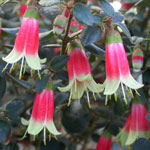 Correas are a gorgeous native plant that range from ground cover, to small shrubs that can grow up to two metres high. One we like to use in our garden designs is called Correa Federation Bell, and is a medium sized shrub. The signature bell-shaped flowers, similar to a fuchsia, appear in winter and early spring, with the Federation Bell producing a unique two toned pale yellow and pale pink flower. They require little watering after planting and are an attractive addition to a cottage garden, making a great informal hedge.
Pro tip: Once established, this plant is reliable, tough and drought tolerant. Even though the Correa is easy to maintain, it is important to give it a light trim after flowering.
---
Waterwise Perth Garden Designs
It's important to consider how waterwise your garden is, whether you're adding a few new plants or redesigning the whole garden. It's also important to incorporate zones within your garden plan, for example: Primary – High demand water areas that could require daily watering by hand e.g. vegetables. Secondary – Moderate demand water areas that need weekly watering. Minimal – low demand water areas that only require watering during the hotter months depending on the plant. If you can incorporate smart planting within your garden using this zone method, then you will be sure to save plenty of water whilst having a stunning functional garden, filled with the rich colours and textures of our Australian natives.
Western Australian flora is some of the most abundant and diverse on Earth. Prior to planning your waterwise garden, get inspired by taking a trip to Kings Park and checking out the stunning array of Australian natives sweeping the gardens.
You can find many species of native plants in Perth at these Australian native nurseries, Zanthorea, Apace and Australian Native Nursery. Jump online and checkout their websites to get a list of the current natives in store as well as the water saving products that are available to help keep your garden happy, all while saving on water consumption. Remember we can all play a small part in being water efficient!
For professional advice on which plants are most suitable for your garden, or any other Perth landscaping design or garden maintenance contact The Greenscape Collective.